On Thursday 23rd February, HRH The Prince of Wales visited The Passage to officially open two newly refurbished accommodation projects, Passage House and Bentley House.
A major capital works programme started in 2021 which has seen both buildings undergo extensive renovations. Together, they will support around 225 people who have experienced homelessness, each year.
The projects are an important part of our long-term strategy to end homelessness in London.
Passage House has 37 en-suite units and offers a rapid-response service for those who are newly homeless, aiming to reduce the instances of people becoming stuck in a street-based lifestyle. Meanwhile, Bentley House provides homes for life for 20 people who have a long history of being street homeless. While residents here live independently, they are provided with on-site support from The Passage's team of experts and volunteers.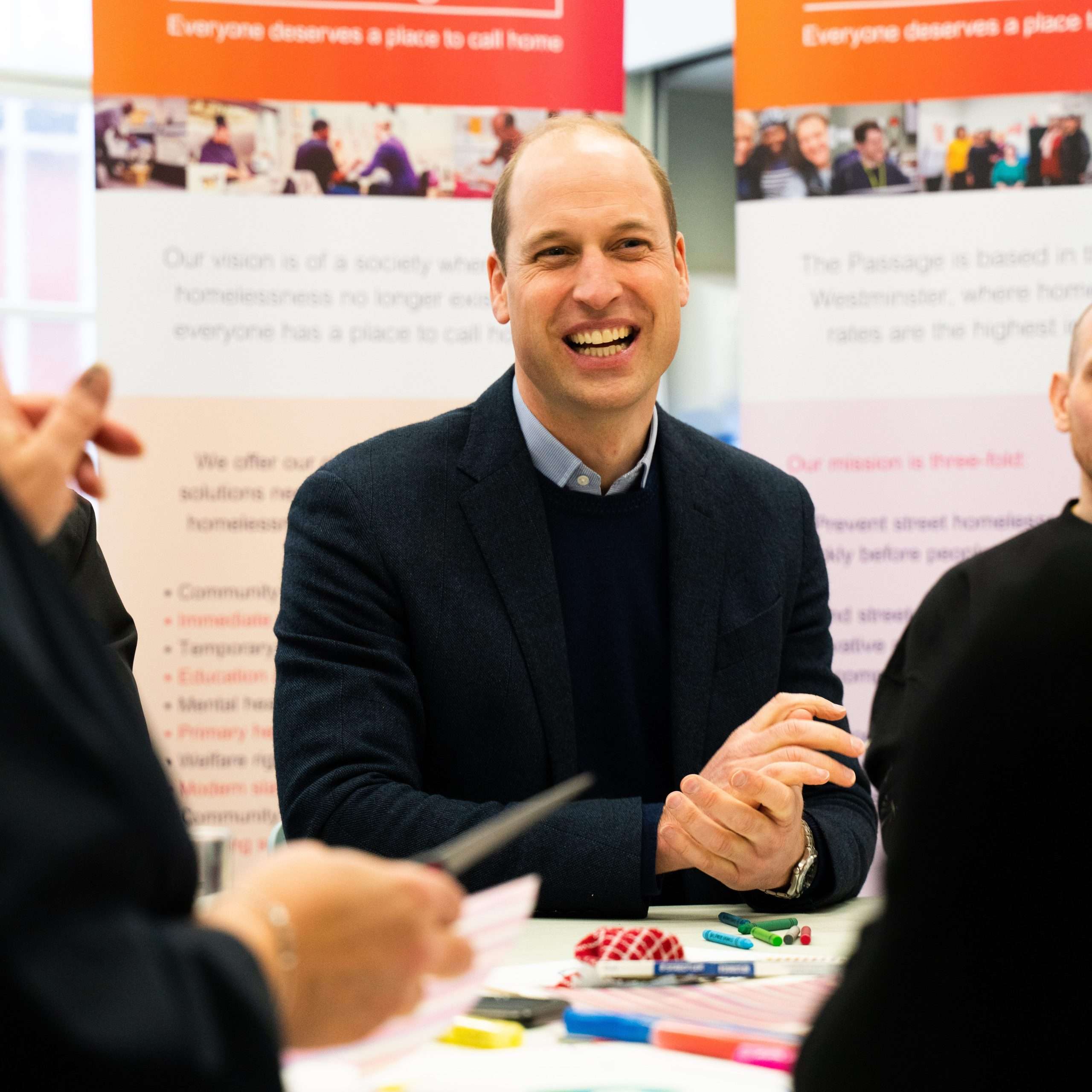 The total cost to refurbish both projects was £9 million, which The Passage has raised from private donors and local authority grants.
During the visit, The Prince met with residents, staff and volunteers to hear about the impact the new facilities will have on those who The Passage supports. His Royal Highness also met representatives from the organisations who have funded the refurbishment, including Westminster City Council, Greater London Authority, the Julia and Hans Rausing Trust, the Albert Gubay Charitable Foundation, Sainsbury Family Charitable Trusts, the Laing Family Trusts and the London Housing Foundation.
To mark the official opening of the two buildings, guests attended a reception at our very own events space – Cathedral View – where The Prince made a short speech and unveiled two new plaques.
He said: "As Patron of The Passage, I am delighted to be with you all here today to formally launch the refurbished Passage House and the newly created Bentley House. My thanks to those who funded the refurbishment works and to those who worked tirelessly to ensure the highest standards have been achieved. I know this has been a genuine team effort.
Both these projects give a vital route out of homelessness, ensuring those accessing these services have a place they can truly call home. Every time I come to The Passage I am always struck by the lasting impact of their work. The work that I have seen first-hand over many years is the reason I know that ending homelessness must be thought of as more than simply a wishful aspiration. Instead, it should be viewed as an achievable goal, one that working together we can and must accomplish.

The Passage is taking an innovative approach to preventing homelessness – they are working collaboratively with others in society to tackle this challenge. No single organisation or sector can end homelessness; but by working together in true partnership, organisations like The Passage can help demonstrate it is not an inevitable part of life.

I believe this is how we can make homelessness rare, brief, and non-recurrent. I am determined to play a significant role to support this becoming a reality and look forward to sharing further details later this year. I am personally more determined than ever to play my part in working with others to do all we can to stop the human tragedy that is homelessness.

Thank you once again for all coming today. And thank you to the whole team here at The Passage for their constant dedication and commitment."
---
Mick Clarke, Chief Executive of The Passage said: "Every day at The Passage we see people full of talent, but who have had precious little opportunity given to them.
We recognise that no one in this country is born on the streets; circumstances cause people to become street homeless. Our role is to ensure that everyone who comes to our door is given access to those opportunities; opportunities that are the fundamental right of every person in this country.
So whilst we rightly thank all those who have provided the bricks and mortar to refurbish our buildings, we also thank the many people – our supporters, volunteers, staff, and our Royal Patron, The Prince of Wales – who provide the vital ingredients of heart, soul and love which enables these projects to be not just houses, but homes."
A special thanks to